Reiki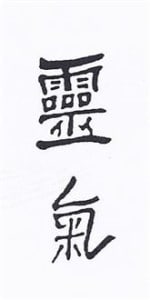 Reiki (in my teachings) is an adaptation of ancient healing techniques from Japan and Tibet. My training as a Master in both schools has been combined to offer you the advantage of both systems.
This self-help technique (among many other things) promotes relaxation, reduces stress and is effective in pain management. In a state of health energy flows freely in, through and out of the field in an organized, balanced manner. In a state of dis-ease or injury, the field is obstructed, disordered, disturbed or depleted. Healing is really a move toward order.
Energy healing techniques promote relaxation, healing, wholeness and stress reduction. Reiki is effective in pain management and can be used to prevent disorders, pre/post surgery and to maintain a positive state. Reiki is an extremely effective technique which can be taught to anyone.
Practice on your plants and animals too!
Reiki is used to balance energy on the levels of mind, body, emotions and spirit. When there is balance there is the ability to heal one's self inside and out!
Reiki can be used alone or in conjunction with other therapies. Reiki does not interfere with any other modalities or with conventional medicine, although can enhance greatly. Many of my students of the past 21 years are RMT's, physiotherapists, counsellors, educators, reflexologists etc.
Reiki is a science and an art. It is not a religion and beholds no doctrines or contradictions to Universal or Natural Laws. As this is so, anyone can receive or learn to give a Reiki treatment. Students have come from all backgrounds and belief systems.
The main reasons students have taken the class is for:
a. pain/health – themselves &/or family
b. stress – relaxation response  
Click here to learn more
Slowing your heart rate
Lowering blood pressure
Slowing your breathing rate
Reducing activity of stress hormones
Increasing blood flow to major muscles
Reducing muscle tension and chronic pain
Improving concentration and mood
Lowering fatigue
Reducing anger and frustration
Boosting confidence to handle problems
c. body-mind-emotions-spiritual – all need to be in balance. If one is 'out' all will suffer.
You will leave class with a thorough understanding of Reiki and be comfortable with a self-treatment and also offering a full treatment to others.
Full certification available for all levels including Reiki Master/Teacher.
Course outlines:
REIKI LEVEL 1 – class format
Registration Meditation – to settle the energy and prepare for the day
Introductions – each will share their reason for taking this class and their personal expectations/goals of the day. I will share my journey to this point.
Reiki Overview
 we will discuss what Reiki is and isn't
 brief discussion of the 3 levels
 how it works
 caveats on use or demonstration of
 concept of 3 consecutive treatments
 key to being a Reiki practitioner
 the benefits of – for practitioner and recipient
 How and when to use Reiki as well as combining other treatments ie. massage
History and philosophy – we will discuss the traditional Usui story Differences in Western and Japanese practice
Ideals Precepts
Demonstration and practice of Self-treatment including possible hand positions and when to use.
Questions?
Explain attunement process, purpose and preparation
LUNCH
Attunements
 these are done individually and privately unless a specific group of students request sharing the space during attunement
Share experiences of attunement.
Demonstration of a full Reiki 1 treatment
Break
Team Treatments (or pairs depending on numbers)
Q & A
Discuss practice group
How arranged and the importance of continuing the education process
If group is from out of town I will assist them in setting up a local practice group and attend where required
Issue certificates
Class availability and sign up:  click here
REIKI LEVEL 2 – class format
Registration
Meditation – to settle the energy and prepare
Introductions
each will share their reason for taking this class and their personal expectations/goals. We will all share our experiences with Reiki 1.
Explain agenda
General discussion of Reiki 2
 Review of Precepts and Ideals – and in relation to level 2
 Discuss asking permission on the soul level
 Discuss only working for the higher good
Symbols
3 Usui symbols
See it – Say it – Draw it
The meanings and purpose will be discussed
Must be clear on how they are empowered
Discover ways to utilize them
Discuss uses
BREAK
Discuss and demonstrate how to give a Reiki 2 treatment
Practice giving Reiki 2 treatments on each other
LUNCH
Meditation to prepare for Attunement Attunements
Attunements are done individually and privately  unless a specific group of students request sharing the space during attunement
Share experiences of attunement.
BREAK
Distribute handouts
Discuss/demonstrate absentee healing treatments
All will practice a distance treatment using one technique.
Practice and Casework
Q & A
Talk about practice group and importance of.
Discuss Reiki Level 2 – Advanced and Tibetan
Issue certificates
Class availability and sign up:  click here
REIKI LEVEL  2 – Advanced & Tibetan
Registration
Sharing of use of Reiki 2 – stories
Meditation
Expanded uses of Level 2 symbols.
Empower Goals
Scanning/assessment
Symbols – 3 Tibetan
Draw them
Discuss advanced techniques
LUNCH
Attunement
Discuss attunement experiences
Expanded assessment and sending techniques & Reiki to past/future
Questions?
Mental/Emotional healing
Team treat using symbols
Discuss Master level – time frame.  When students are ready to do Masters/teachers it is recommended that they state their intention well in advance to enable monitoring of classes in progress.
Certificates
REIKI MASTER/TEACHER training
Please contact me for details.
Axiational Alignment

In its healing capacity Axiatonal Alignment opens blocked meridians to allow the free flow of energies that have been trapped in our beings and restrict our movement forward. When allowed to flow, all cellular memories that we have been afraid to look at and have held us captive are released.
It also assists us to reconnect to Source.
Treatment involves three passes down the body. During each pass the practitioner will lightly touch the client at specific points on their body. These points, when put together, will trace out forms of sacred geometry.
What may you feel with this treatment? Some experience deep relaxation, an increase in focus and clarity, motivation, improved concentration, a sense of balance and more vivid dreams. You may find answers to your questions arrive in these dreams or memory flashbacks. You may feel more in the flow, recognizing more synchronicity.
Three procedures:
1. This first pass clears blockages from the meridians by opening and clearing the spin points and allowing them to spin.
2. This pass connects the left and right sides of the body. It helps to balance and centre the masculine and feminine intellect and initiative.
3. This pass anchors the Source energy.
Upcoming
Both 'real time' and online versions including, but not limited to:
Chakra Iridology
Feng Shui – many topics including Clearing the Clutter, Decorating with FS, FS for the Garden, Relationships
Intuition Development
Space clearing (physical and energetic)
NLP – for clarity, purpose and decision making
Stressbusters
Pain Management
Healing through Play and Travel
Adventures for the Soul
Ancestral Soul Dance (circle dance)