Optimism or denial? Perspective at work.
Going with the flow or hanging on?
A week ago, yes just a week but seems like so much longer we had a day of 17 C or 63 F, which is unseasonably warm for Ontario. Spent the day walking my favourite beach and then, as I just couldn't let the day go, took my dinner outside, lit a fire and stayed out for another 3 hours. What bliss!  My perspective of the moment.
60 hours later we had our first snow that stayed – to this day.
We went from this: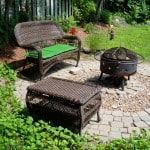 To this: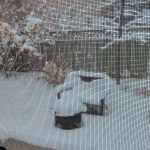 While it was warm the optimist in me said "yes I know they're calling for snow, but it won't last. I'll still be out here lots before winter truly arrives". So I didn't put away the rest of the lawn furniture and my favourite – the swing by the pond.
Guess what I was doing yesterday as the forecast to come is for anywhere from 5cm of snow to 30 depending on which end of the squall you reside? Yep – slogging through the snow dragging all the furniture to the garage – now wet and snowy of course.
Soooo, tell me your thoughts? Was I being optimistic or was I holding on to the last of the what I call 'freedom weather'?
Oh and BTW…..lazy is not an option.  Very active day – just not putting away furniture.
Please leave your comments below for your chance to win the monthly draw for a complimentary Axiatonal Alignment session (for locals) or $20 off any online purchase to come.