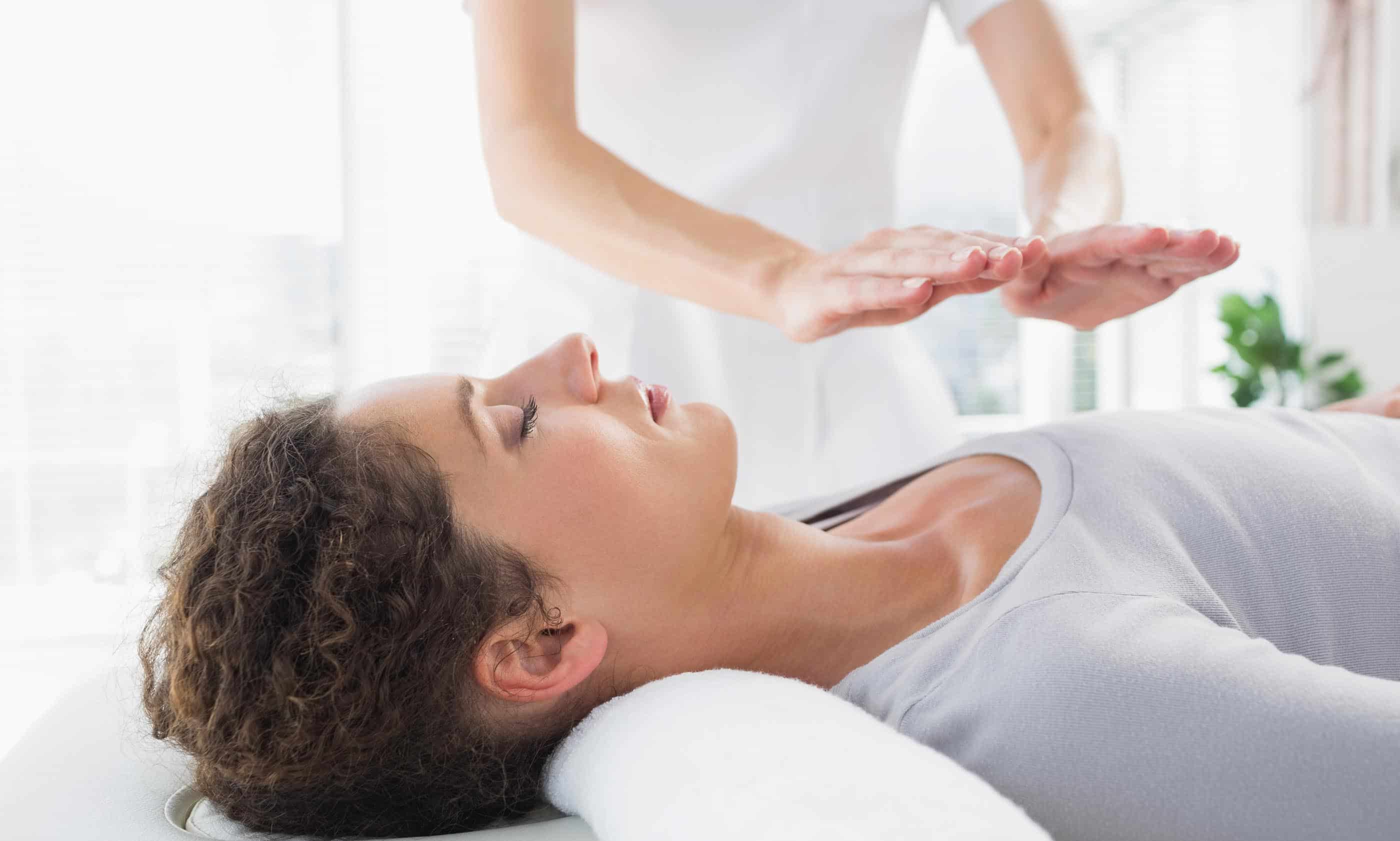 This self-help technique promotes relaxation, reduces stress and is effective in pain management.
Teachings in both traditional Usui and Tibetan styles.  Includes full 86 pg. course manual as well as audio/video to review technique at home.

What is Reiki?
Reiki is used to balance energy on the levels of mind, body, emotions and spirit.  When there is balance there is the ability to heal oneself. Reiki can be used alone or in conjunction with other therapies. Reiki is an extremely effective technique which can be taught to anyone. Practise on your plants and animals too!

What is Energy Healing?
In a state of health energy flows freely in, through and out of the field in an organized, balanced manner.  In a state of dis-ease or injury, the field is obstructed, disordered, disturbed or depleted.  Healing is really a move toward order.

What are the effects of a Reiki session?
Energy healing techniques promote relaxation, healing, wholeness and stress reduction.  Reiki is effective in pain management and can be used to prevent disorders, pre/post surgery and to maintain a positive state.
What prior students are saying.
"You encouraged people and are a good listener which I would think is essential.  You are empathetic which is another good trait for a teacher/facilitator.  Many have benefited from your wisdom…….again you have a brain in your head.  Good old fashioned common sense is rare these days.   Finally when you are listening to someone, you have the ability to bring the individual  back on track when they digress."
C.W.
"I very much value the teachings you've given to me over the years – intuition classes as well as our beloved Reiki.  Sometimes your voice is still in my head reminding me of things you taught me.  Because of your teachings I did grow outside of my comfort zone and have become a stronger person.  I see you as teaching people skills and giving them tools to become self-empowered:-)
I would say one of your hugest assets is your passion for your material.  You live and breathe energy work and are a great role model for those around you.  Being fun to be around helps people to want to connect to you.
Thank you for being you!"
B.D.
"You would make an excellent teacher as you have had life experiences which many have not.  You have pushed yourself forward to improve who you are which created wisdom that you have passed on to others, like myself.  You would also make a great teacher because you are no long restricted by the chains of society or societal norms.  You are a free spirit and have such a lightness to you that you inspire and lift people with even just your presence.  I would highly recommend you!"
Y.F.
Frequently Asked Questions
How long is this course?
Reiki Level 1 is a one day course.  We will start at 9:30 and end at 4:30.
Do we get breaks? Lunch?
We will take an hour for lunch and short stretch/bathroom breaks as well.
Pick up lunch nearby or or feel free to bring your own.
Do I need any prior training?
Absolutely no prior training is required.  You will be taught everything you need to know to efficiently practise as a Level 1 practitioner. Practising on yourself, family/friends and your pets and plants is encouraged to aid in your fluency.
What is the Course Curriculum?
Will I need to take lots of notes?
You may make extra notes to enhance your retention.  However, an 82 page course manual will be available to you.  You will receive some background information and sheets to peruse before you attend.  Anything else you need will be received after the class.
MP4's (video) of techniques learned will be available for you as well to refresh your memory after the course.
What is your refund policy?
As class size is restricted to allow for optimum learning experience, we cannot provide a refund.  You may however, transfer your registration to another person in your stead.
Reiki Level 1 Certificate Course
Early Bird Price
Access to full day instruction

Pre & Post coursework – 82 pg. manual & instruction (MP3/MP4 to review technique at home)

Ongoing Support and practice group
Act Now!
Reiki Level 1 Certificate Course
Snooze you lose price.
Just think – if you join the Early Birds the price difference will pay for dinner out after class!

If not you still of course receive:

Access to full day instruction

Pre & Post coursework – 82 pg. manual & instruction (MP3/MP4 to review technique at home)

Ongoing Support and practice group
Sorry I'm late!
Contact me for payment options and to book your spot
Don't let the sun go down on this offer!
Time until Early Bird Pricing Disappears!
Don't Be Shy. Join us now!
We have a growing family of Reiki practitioners who are waiting to meet you!
Won't you honour yourself by taking this day for you?
Still have questions?
Sitting on the fence?  Need more information before you decide?
Please contact me for any and all questions or concerns.  We'd love to see you there!